Banquet Facilities & Buffet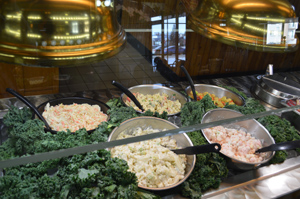 Classic Buffet Company in Regina offers an endless variety of hot food, fresh salads, cold drinks, and tempting desserts each day for lunch and dinner. Sundays feature brunch as well. We also have a banquet room to accommodate your family gathering, team, club, or any other event, with seating for up to 100 people. Talk to our staff about reserving your room and any specific requirements you might have.
Our buffet items vary somewhat every day, but here's just some of what our buffet may include:
Sunday Brunch Offerings
Pancakes
French Toast
Cinnamon Buns
Bacon
Pork Sausage
Hash Browns
Quiche
…plus much more!
Lunch & Dinner
Fried Chicken
Beef Sausage w/Peppers and Onions
Roast Turkey
Baked Ham
Pork Cutlets
Liver and Onions
Sweet & Sour Ribs
Salisbury Steak
Grilled Salmon
Meatballs
Teriyaki Beef
Stir Fry
Chicken Wings
Fish and Chips
Garlic Sausage w/Sauerkraut
Baked Chicken